Every athlete realizes the importance of proteins for their body and therefore, we have prepared for you a recipe that is loaded with proteins and moreover it is vegan-friendly. This recipe saves your time and wallet at the same time. 🙂 Lentils will be the stars in today´s recipe. Lentils are also called the queens of the legumes. They easily fill up your stomach and charge you with (not only) proteins. They contain huge amount of fibre, vitamins, minerals and trace elements such as magnesium, potassium and zinc. We will "serve them" to you today in a form, in which you might not know them yet – they will be part of a vegan versions of favourite spaghetti Bolognese. This version does not only contain fewer calories, but thanks to the characteristics of the lentils, it is also richer in vitamins and minerals.
Ingredients for 1 person:
1 medium onion
tomato puree (ideally homemade, 1 can)
¼ to 1/3 cup lentils
300 g spaghetti
olive oil
salt
pepper
dried or fresh basil (not necessary)

Directions:

Put lentils in a bowl and pour the water over them, let them rest for at least three hours until they "swell", ideally let them rest overnight. Peel and finely chop the onion. Heat a little bit of olive oil in a pan and fry the onion until it gets golden brown. Add tomato sauce and some water (the amount depends on the consistency of the tomato sauce). Add salt and pepper according to your taste. Boil the lentils in salted water for about 15 minutes. Then add it to the onion-tomato mixture. Still everything together well and let cook for about 5 minutes. Prepare the spaghetti as usual and finally pour "vege Bolognese" sauce over them. Sprinkle the meal with basil and you are ready to eat. 🙂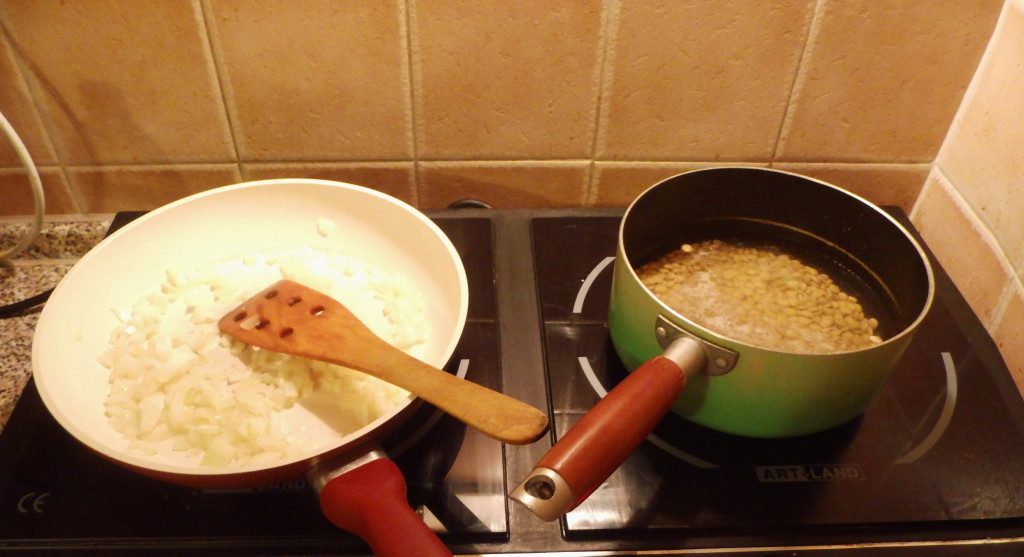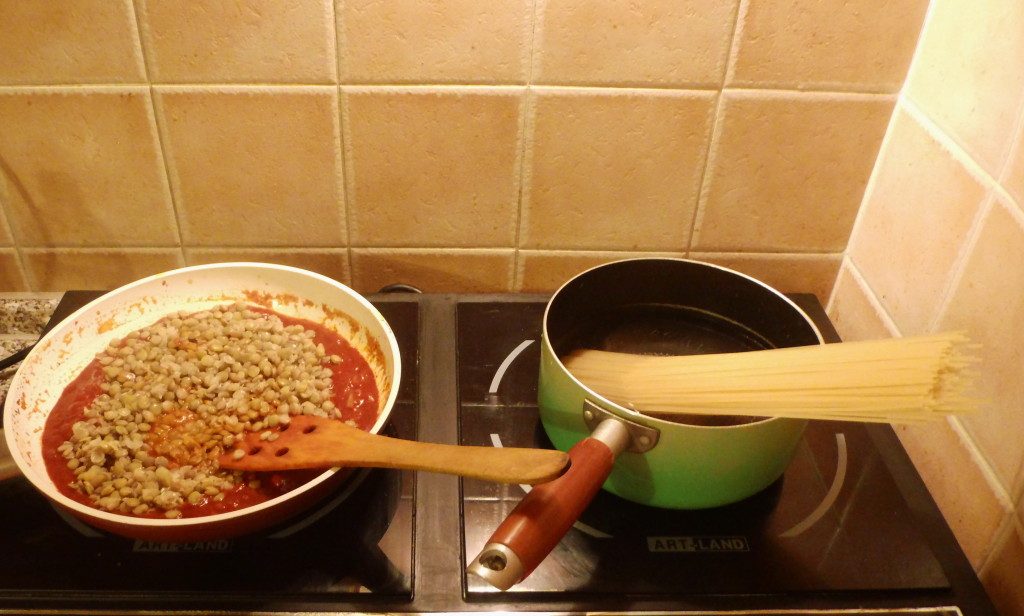 Enjoy your meal. Author of the recipe: Pauly H.