Dumplings with blueberry chia sauce
A recipe for delicious cheesecake-semolina dumplings topped with blueberry chia sauce and decorated with mint leaves, are ideal for people who have sweet tooth. And the dumplings are completely gluten free! 🙂
Ingredients
Dough:
chunky cottage cheese 250 g
fine rice semolina 6-8 tbsp
bio vanilla pudding 2 tbsp
poppy seeds 1 tbsp
vanilla extract ½ teaspoon
egg 1 pc
Blueberry sauce:
fresh blueberries 150 g
chia seeds 2 tbsp
coconut cream 2 tbsp
water 4 tbsp
coconut sugar 2 tbsp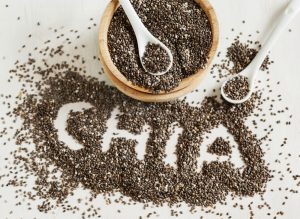 Directions
Dough:
Mix cottage cheese with egg, poppy seeds and vanilla extract. Afterwards, add organic vanilla pudding and gradually add the rice semolina (eg. 6-8 tablespoons, check if it is easy to form the dumplings, but do not over do it, otherwise they will be way too hard). Make small dumplings from the dough. Boil them until they float on the surface of the water.
Blueberry chia sauce:
Mix the chia seeds with water and let them rest for 5 to 10 minutes until they create a stiff gel. Then add the chia gel in a  blender along with all the remaining ingredients and blend until smooth (if it will seem too thick, add more water). Let the sauce rest for 5 to 10 minutes in a refrigerator, until it lightly thickens. Serve the dumplings topped with the blueberry chia sauce and finely chopped mint leaves. You can decorate them  with coconut sugar according to your own taste. Enjoy your meal! Recipe Source: www.fitnessguru.sk